A3Pi Services, LLC is an established Marine Survey and Consulting firm, servicing worldwide clients in all aspects of the marine industry, which has gained the respect of clients from varied work in passenger vessel markets in both the gaming and excursion vessel industries, to consultation in several ocean vessel markets. Projects have included full surveys of cruise and various cargo vessels to damage and casualty investigations, plus salvage and numerous underwriter surveys, including loss investigations and standard condition and valuation surveys. Recent work has included Environmental Consulting, Auditing, Oil Record Book Training, major projects in Yap, Micronesia and various ports in the Ukraine, etc.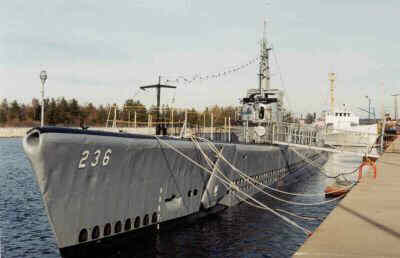 A3Pi Services, LLC has also consulted upon and surveyed various historic marine vessels, recommending repairs and/or refurbishment to preserve, move or improve the hulls, such as the "Milwaukee Clipper," car ferries "City of Milwaukee," "Viking," "Arthur K. Atkinson," "Badger," of both riveted and welded construction, and numerous older Naval and commercial vessels such as the submarine "Silversides" and "LST-393."
A3Pi Services, LLC was founded in 1988 by Mr. Ojala and has specialized in unusual projects, such as the inspection and repair of riveted structure, including conversions from riveted to welded construction, on vessels and on the Panama Canal Lock gates and caisson (2-year project), as well as those described in the following paragraphs.
This varied experience has exposed A3Pi Services, LLC to all aspects of marine construction, repairs, and related industries. Mr. Ojala's engineering qualifications allows him to be conversant with designers, shipyard management and owners but is also respected by production personnel and operators because of his extensive on-site time at shipyards in new construction and repair, in addition to practical survey experience and vessel operations. Mr. Ojala is also highly experienced in weld inspection (AWS-CWI), NDT techniques, and has extensive machinery experience.
The following list of projects illustrates the versatility of A3Pi Services, LLC:
Large vessel inspection project in the Ukraine, inspecting over 60 patrol vessels for condition, and recommending repairs and improvements.
Month-long project in Yap, FSM (Micronesia) advising FEMA and local businesses on sunken and damaged marine equipment, following a large typhoon.
Non-exclusive surveyor for Germanischer Lloyd, covering the Great Lakes and Plains States; numerous factory inspections for export equipment certification, involving Third Party Witness of testing, export packing requirements, quality system audits, and others.
Non-exclusive surveyor for ABS Consulting (Marine Services) on many world-wide and domestic projects, including structural surveys and accident investigations, SOLAS, MARPOL, and many other disciplines. Oil Record Book reviews, consulting, and training are a specialty.
Consultant for Panama Canal Commission to develop their repair program for the canal caisson and to survey and recommend repairs to various riveted structures in the lock system and lock gates. Met with PCC Engineers to develop the repair program and worked with Repair Division managers.
In 1999, A3Pi Services, LLC was designated as the lead marine engineering auditor of a team of auditors confirming compliance of an ocean passenger liner fleet of 32 vessels, involving record review, equipment, and training, and this project extended through 2007.
In 1998-2001, attended seven (7) U.S. Flag Tank Vessels bi-annually to confirm compliance with a Federal EPA Court decision relative to oil pollution in the U.S. Waters.
Independent representative for shipyard acceptance survey, ULCC Tanker "Eagle", mediating findings between shipyard and owner. Twenty-day survey including riding ship for ten days to examine cargo tanks.
Consultant for N.O.A.A. following sinking of Great Lakes based research vessel, including raising, safe transport to shipyard, damage survey and investigation into cause of sinking, plus potential repair estimates.
Investigation to determine the cause of hull fractures in design class of ocean purse seiners in Pago Pago, American Samoa for London Underwriters. Subsequent repair procedure approval with shipyard in Whangarei, New Zealand. Attended mediation between underwriters and vessel mortgage holder to assign responsibility for repair costs.
Investigation of sunken tuna seiner for French Underwriters, resulting in full surveys of sister vessels and development of repair program to eliminate hull defects found during investigations. Supervised repairs in Fiji, Australia, and New Zealand. Deposed for subsequent lawsuit.
Several projects for N.O.A.A. (National Oceanic & Atmospheric Administration), working with ship engineering section. Attended research vessels in Kwajalein, Marshall Islands and Manzanillo, Mexico to investigate hurricane damages and propose repairs for safe resumption of voyages.
In 1993, N.O.A.A. used A3Pi Services, LLC to evaluate the condition of an aging research vessel and recommend methods and costs to rehabilitate the vessel.
Salvage of capsized dredge at Erie, Pennsylvania for The Great Lakes Towing Company. Performed all engineering to design and install rigging for righting operation, coordination of contractors, supervision of all personnel for successful righting in 6 days.
Investigated weld defects in Suez-max tanker at Dubai Shipbuilding, U.A.E., to determine cause of oil leakage and causes of weld failure.
Investigation of oil tanker explosion at Port of Spain, Trinidad, and Tobago. Coordinate independent team to determine cause and responsibility.
Numerous small passenger vessel designs, conversions, stability tests and regulatory approvals. Full responsibility for Coast Guard approvals and structural drawings plus work supervision.
Numerous condition and valuation surveys of passenger and commercial vessels, performed worldwide:

Drydocks in Guam, Boston, Great Lakes, and elsewhere
Gas tankers in Peru, Mexico, and Houston
Oil tankers, Jamaica, Venezuela, Dubai, Bahamas, Singapore, Korea, Okinawa, Greece, Norway, Spain, and numerous U.S. Ports
Passenger ferry, Ecuador
Cruise vessels, Alaska, Caribbean, Bahamas, Florida, Mediterranean, Baltic
Used as expert witness and/or expert consultant for various law suits relative to marine design, construction, operations, repairs and underwriter interests.
A3Pi Services, LLC looks forward to the opportunity to be of service to your needs and will use its varied experience to obtain the best possible results.
Robert A. Ojala
Naval Architect/Marine Surveyor
President, A3Pi Services, LLC