Sweetwater Sailors is an Anthology of Great Lakes Sailors' real-life stories, describing their work, their comradery, the effects on their family life, and why they keep going back to a job which is grueling, and sometimes dangerous. Five women sailors, two captains and three chief engineers, also tell how they succeeded in what is normally a male-dominated profession.
Sweetwater Sailors transports you into the world of Great Lakes sailors, showing unusual ships, such as Bum-Boats, Mail Boats, and Pilot Boats, in addition to the ore carriers, carferries, passenger liners, and tugboats, which are all described in detail, within the sailors' stories.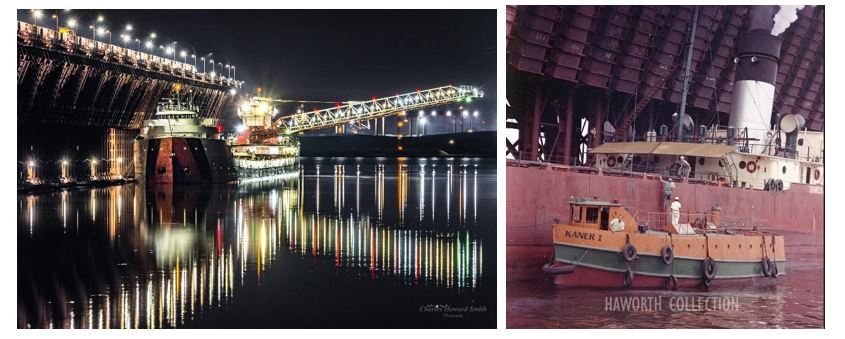 Step into the lives of the last few generations of sailors, who just couldn't let it go, once it hooked and reeled them in. That life gets into their blood, and the crew becomes like another family.
Read comments by the first and only woman in the United States to Captain a huge ore carrier, and the struggle women had to get promotions and recognition.
From Cooks to Captains, from Engineers to Wheelsmen; Bosuns, Coalpassers, Deckhands and Oilers. You will learn all their roles in the Great Lakes shipping industry. Also learn how ship design changes over the last 150-years have increased the cargo tonnage, but reduced the number of ships and men required, changing the job descriptions of the crew.
Sweetwater Sailors is both entertaining and serious, as each story told by these men and women brings you into their lives. Whether it's their drinking episodes "up the street", playing baseball in the cargo hold (photo from 1937), or other funny stories, you will laugh. But serious issues of dealing with family, accidents and injuries, or how women have come to take an active role in this fascinating industry are addressed. Sweetwater Sailors will amaze you, and make you thankful for their dedication, keeping our heavy industry supplied with raw materials.
Numerous photographs are included, and many interesting and funny stories, as told by the Great Lakes sailors who collaborated with the author. The final result is both informative and entertaining. Those interested in the history of the Great Lakes, ships of all kinds, and women in atypical careers, will enjoy Sweetwater Sailors.